STL Wing
Working on the addition of the allowed wing on a STL class Honda Civic.
4th Championship For Greenhouse!
Chris Greenhouse has made it four in a row. The Weasel RallySports team driver has won the 2011 RallyAmerica Central Region Group 2 championship for the fourth consecutive year. Piloting his Plymouth Neon, he took class wins at Sno* Regional, Tresspasser's Wil, Finger Lakes, and Sherwood Forest rallies. He also took a 2WD National victory at Susquehannock Trail Performance Rally in June and finished 4th in the 2WD National Championship series as well. "It was definitely a good year for us. We had solid, consistent finishes, a motivated team, and a little bit of luck along the way to our 4th championship. We had a few close battles, and we had to come from behind a few times, too. I think, more importantly, we were able to persevere through some adverse moments and we didn't give up through those moments. We needed to hang in there to capitalize on the competition's misfortune a few times, too." Chris expects to return to the stages in January 2012 in Atlanta Michigan, USA at Sno*Drift Rally. "We have a lot of work to do in the off-season, so much so that it isn't really going to be much of an off-season. We have a new engine going into the Neon, and we have a few other improvements planned for 2012 also. For now, I would really like to thank EBC Brakes for supporting our championship efforts. Get ready, because we are coming back even stonger than before in 2012!" Chris would like to also thank EBC Brakes, MadDog Short Throw Shifters, Angry Sheep Motorsports, JayRacing.com, and Silco Fire Protection for their support.
We Made The Cover of SportsCar!
We were very pleased to see the SportsCar Magazine when it arrived this week.  To make the cover is fantastic!  SportsCar is the monthly publication of the Sports Car Club of America.
B-Spec Fiat 500
Just 10 days prior to the SCCA RunOffs we were contacted by our friends at Dodge Motorsports.  Chrysler Group LLC wanted to have a Fiat 500 on display at the RunOffs to help promote the new B-Spec class.  We were asked to assist in the build by installing a rollcage, racing seat, and belts, steering wheel, custom exhaust, and suspension components.  We were delivered a complete car in which we had 7 days to remove the interior, fabricate a rollcage, fabricate seat mounts, fabricate an exhaust, install suspension, paint interior, install safety equiptment, and deliver to Chrysler/Fiat.  We were so busy that we never got to take any photos of the build.  So here is a photo of the completed project at the RunOffs.
If you have interest in building a B-Spec car please contact us regarding specifics.  They offer a great way to go showroom stock racing without breaking the bank.
2011 SCCA RunOffs
"I would like to thank Chris Childs and Angry Sheep Motorsports for putting his heart and soul into my SSB program this year. This guy worked hard on all my cars. He sacrificed his time on many occasions and never once said I was asking to much."
Mike Scornavacchi
2011 has been a great year for ASM. With two SCCA Divisional Championships, The June Sprints Win, and the RunOffs Win, all in Showroom Stock B.  It looks like building two Mustangs for SSB this year was a good idea.
We would like to thanks our partners for the 2011 season;  Hoosier Racing Tire, and Carbotech Brakes.  Thank you also Ford Racing for continued engineering and contingency support.  We would also like to congratulate some of the great drivers we have had the chance to work with this year;
Mike Scornavacchi- 1st SSB
Marty Grand- 1st T2
Chris Puskar- 2nd T3
"I want to thank Chris at Angry Sheep Motorsports  for being a huge part of our success
in winning the SCCA Runoffs T2  National Championship for the
second year in a row. The car set up was perfect and  allowed us to
keep our tires on the car despite very demanding circumstances.  I
can't thank Chris enough for providing me a set up where all I had to do
was concentrate on driving the car as hard as possible.
Thank You!!,
Marty Grand
SCCA T2 National Champion 2011
SCCA T2 National Champion 2010″
Below are some general pictures from the event, enjoy….
Coming soon………
Coming soon, the SCCA T1 Corvette build………………………………
Viper ACR-X
We were recently visited by our friend Bruce Kalin with his brand new Viper ACR-X.  Bruce brought the car by for a chassis set-up.  Including;  setting corner weights, ride height, bumpsteer, and four wheel alignment.
The Viper ACR-X as delivered comes with just a street car alignment and street wheels and tires.  This requires about 10 hours of work to dial the chassis in for track use.  Dodge Motorsports offers competitors a shim kit for accurately setting camber and caster.
We start by lowering the car to competition ride height.  Then we set camber and caster.  After that we set bumpsteer.
We love the fact that the bumpsteer is fully adjustable on all current Vipers.  There are shims under each rack mount and at the rear toe link mounting plate.
The final touches are to set toe on all four corners and torque all the fasteners.
Lotus Fuel Tank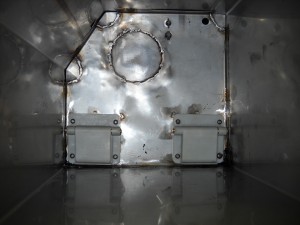 It is a well known issue that the Lotus Exige and Elise suffer from a fuel starvation issue when using them on the track.  Here at ASM we have developed a cure.  We remove the end of the fuel tank and then remove the baffle plate that where the fuel pump module sits.  We then add ATL trap doors (see picture above.)  Then the large openings in the baffle are closed off and the tank is reassembled.  We leak check to verify the welds and away you go.
Marty Grand wins 2010 SCCA T2 Championship!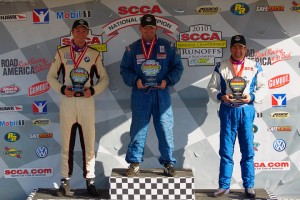 We here at ASM would like to congratulate Marty on the 2010 T2 Championship.  Thanks for letting us be part of your winning team!
"
I just wanted to thank Chris@angrysheep for giving me a winning race set-up that helped me win the 2010 SCCA National Championship!! You gave me a great set-up that allowed me to not only rotate the car on demand but left the car compliant enough to absorb the rough curbing of Road America.
Thank you!
Marty Grand
Mitsubishi EVO IX
SCCA
T2 National Champion"
24 Hours of LeMons VW Quantum!?!?
When was the last time you saw one of these?  VW Quantum being caged for some friends at Car & Driver for the 24 hours of LeMons.